BEDFORD YES!


Information on this web site was last up-dated on April 24, 2015. Click on this link to see what information has been up-dated.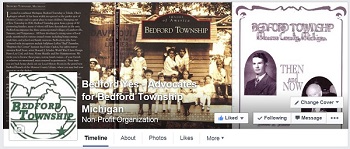 Click here to view the "Bedford Yes Facebook Page"
Quick Links: Special Announcements
April 2015
Bedford Township Trustees discuss the possibility of charging a fee to use the BS & A Internet Services offered by Bedford Township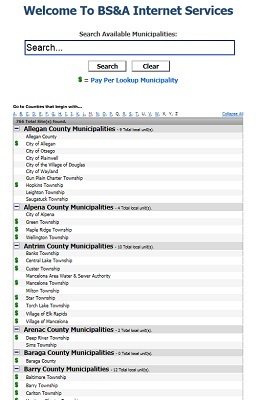 Click here to view the information on how to use the BS & A property look-up for Bedford Township
Click here to view communities in Michigan that offer BS & A property look-up (please note that some communities charge for using the service)
Click here to view the video of the April 21, 2015 Bedford Township Board Meeting where the discussion took place concerning charging a fee to users who use the look-up services for property informatiion. The current cost to Bedford Township for the services is $10,000 per year. (The discussion starts at approximately the 32 minute mark on the video of the meeting.)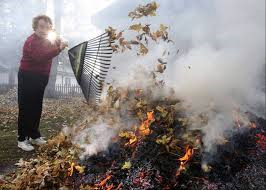 Attention Bedford Township Residents! There is no need to burn your leaves and twigs this weekend. The following was posted on the Bedford Township web site Friday morning, April 24, 2015:
YARD WASTE DUMPSTERS BEHIND THE TOWNSHIP HALL FRIDAY, APRIL 24 THROUGH MONDAY MORNING APRIL 27, 2015 -- NO PLASTIC BAGS! LEAVES AND SMALL TWIGS ONLY.
OPEN TO BEDFORD RESIDENTS ONLY, NO BUSINESSES.
Click here to view the BURNING REGULATIONS for Bedford Township
October 6, 2014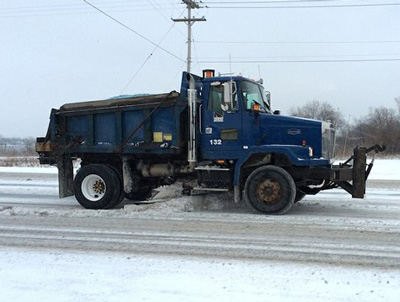 Here is some great news for Bedford Township Residents, especially those of you who live in subdivisions. You all remember how bad last winter was in Bedford Township. According to a newspaper article in the Toledo Blade today, the MCRC is "entertaining" a plan to solicit bids from private contractors to plow the subdivisions this winter.
Also, according to the article, the MCRC has received flexibility from its union to hire seasonal workers. They plan to put an ad in the newspaper for seasonal drivers to drive MCRC trucks to plow snow on the roads in Monroe County since they don't have enough people to drive the trucks currently.
Click here for the page where the newspaper is located.

October 4, 2014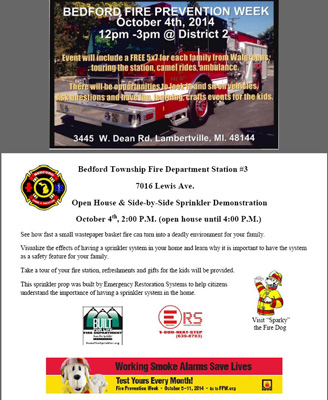 The Bedford Township Fire Department will be hosting 2 free events on Saturday, October 4 th to kick of National Fire Prevention Week (October 5-11, 2014).
Click here to view a printable copy of the complete details. (2 pages)


September 24, 2014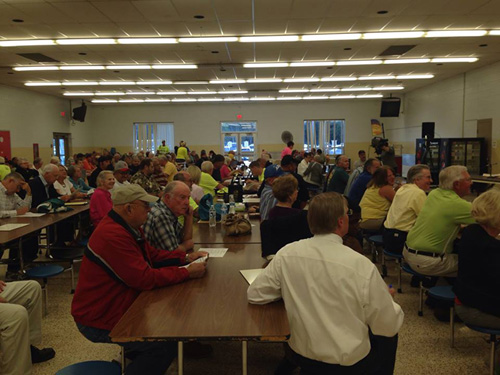 The Special Assessment for Roads has been rescinded by a unanimous vote of the Bedford Township Board.
Click here for complete details
September 13, 2014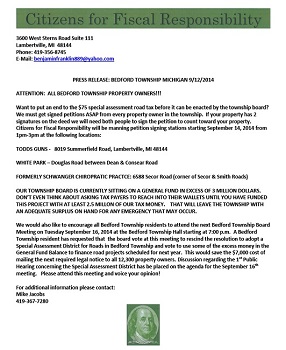 Click here to view information concerning the Bedford Township Citizens For Fiscal Responsibility. They are starting a petition drive on Sunday September 14, 2014 to request that the Bedford Township Board rescind the Special Assessment for Roads. They are also encouraging Bedford Township residents to attend the next regular Bedford Township Board meeting on Tuesday September 16th to encourage the Board members to vote to rescind the proposed SAD.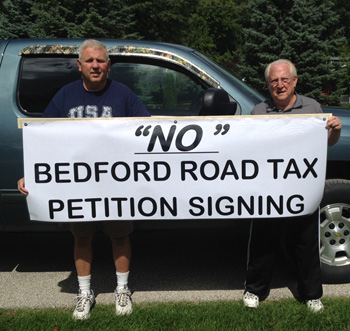 September 10, 2014

Football Field At Bedford Community Stadium Vandalized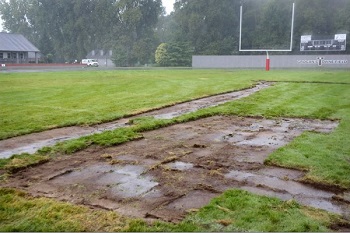 We need your help! The football field at the Bedford Community Stadium has been vandalized. The damage is serious enough to require major sod replacement and has required Bedford Public Schools to move football games scheduled to be played at the stadium to other sites. School officials promise to prosecute whoever is responsible. Anyone with information should call the Monroe County Sheriff's Office at 734-240-7409. Please share this information on your Facebook page and/or e-mail this information to everyone you know to get the word out. Let's assist BPS in finding who did this damage.
Click here for complete information concerning the vandalism.
September 4, 2014
Bedford Township Board Announces Plan to Create a Special Assessment of $75 Per Parcel for 5 Years to Repair Roads: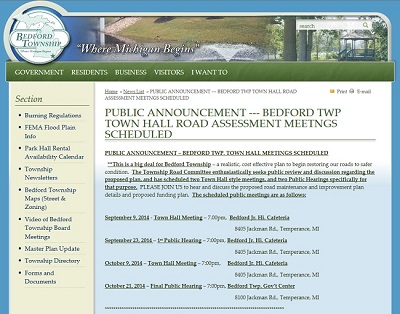 Click here for complete information.
June 8, 2014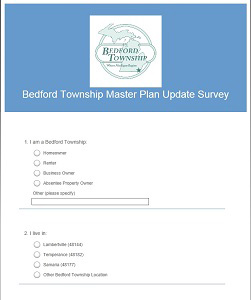 Please assist the Master Plan Steering Committee in developing a new Master Plan by completing the Bedford Township Master Plan Survey. The survey can be completed using the internet. Residents can also pick up a copy of the survey at the Bedford Township Hall. The deadline for all completed surveys is July 5, 2014.
Click on the graphic at the left to for more information on how to view and complete the Bedford Township Master Plan Survey.
June 1, 2014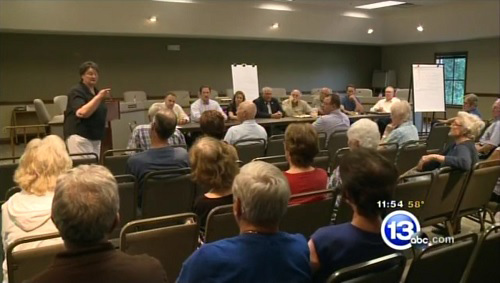 A Town Hall meeting that was held on Thursday June 5, 2014 to discuss Bedford Township Roads. Click here for more info concerning what solutions were recommended by Bedford Township Residents.
May 21, 2014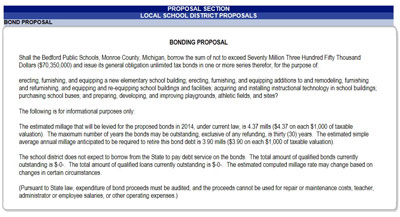 The Bedford Advocates is comprised of a group of local "Grass Roots" Bedford Township residents. The group is open to anyone who is a resident of Bedford Township, Michigan or anyone else who would like to further our mission statement.
Our mission statement: "To promote Bedford Township Michigan as a great community to live, play, work, learn, shop and own a business. This site will be used as a clearinghouse for information on a variety of topics that affect Bedford Township residents."
If you see any information on the Bedford Yes web site that is not accurate please contact web master and he will be happy to remove it or make any necessary changes to the information. If you have questions concerning information posted on the web site or would like to submit information for the web site (All info must be documented.):
If you have questions concerning information posted on the web site or would like to submit information for the web site (All info must be documented.):
Click here to E-Mail the Bedford Yes Webmaster
If you have other questions:
Click here to E-Mail the Bedford Advocates