BEDFORD YES!


Information on this web site was last up-dated on April 18, 2014. Click on this link to see what information has been up-dated.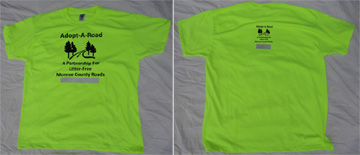 Click on the graphic at the left to download information concerning ordering "Adopt-A-Road" Shirts.
Click here to view a larger photo of the shirt logo.
Click here to read the story published in the Bedford Now concerning the new shirts.
Click here to read the story published in the Toledo Blade on July 23, 2012 concerning the new shirts.
The Bedford Advocates is comprised of a group of local "Grass Roots" Bedford Township residents. The group is open to anyone who is a resident of Bedford Township, Michigan or anyone else who would like to further our mission statement.
Our mission statement: "To promote Bedford Township Michigan as a great community to live, play, work, learn, shop and own a business. This site will be used as a clearinghouse for information on a variety of topics that affect Bedford Township residents."
If you see any information on the Bedford Yes web site that is not accurate please contact web master and he will be happy to remove it or make any necessary changes to the information. If you have questions concerning information posted on the web site or would like to submit information for the web site (All info must be documented.):
Click here to Contact the Bedford Yes Webmaster
Meeting notes from April 13, 2009 meeting.
The group discussed a variety of topics of concern. The general consensus was that Bedford Township residents want transparency in government. Our next meeting is Wednesday, April 29 th @ 7:00 p.m. at the Triple L office 7200 Lewis Avenue (in the Bedford Plaza next to Mancino's). We agreed that each person should make a list of concerns and how to explore remedies for these concerns for our next meeting. The group also agreed to define and finalize our mission statement at the next meeting. Everyone was in agreement that the purpose of the group should be to be proactive on a number if issues by providing as much documented information for residents and at the same time not take sides on any issue. We do not want to come across as a group of 'trouble makers". We all agreed that we would like to assist township residents and officials in getting accurate info on a variety issues and concerns. All meeting are open to anyone who would like to attend.
Meeting notes from April 29, 2009 meeting.
The group continued to work on developing the mission statement and final name for the group. We will finalize these items at the next meeting. A variety of topics were discussed including the following:
1. Town Hall Meetings.
2. How to assist residents in getting information on a variety of topics.
3. Developing a web page with quick facts concerning Bedford Township.
4. Working with the Bedford Welcome Association to get info about Bedford Township to new residents of the community.
5. Explore ideas on how to assist Bedford Township government officials in getting info out to residents, and how to present the information in a format that is easy for citizens to understand.
6. Explore ideas on how to best work with other community groups in the township.
Next meeting is Monday, May 18 th, 7:00-8:30 p.m. at the Temperance Road Elementary School Media Center.
Meeting notes from May 18, 2009 meeting.
The following topics were discussed:
1. Bedford Township Board resolution to impose one percent (1%) property tax administrative fee.
2. Proposed Bedford Township plan for recycling and garbage collection.
3. Went over and discussed a copy of the Bedford Township Revenue & Expenditure Report for Month Ended 4/30/2009.
4. Presentation by Consumers Energy at May 12 th Bedford Township Board meeting concerning their plan for tree trimming and removal in the township this summer.
5. The members agreed that before any information is posted to our web site concerning Bedford Township government it should be verified by the appropriate government officials for accuracy.
The members proposed that the following informational items should be posted on our web site:
1. Agenda, minutes and video of each Bedford Township meeting (board, planning & zoning).
2. A sample property tax statement with a detailed explanation of all items listed.
3. Copy of Final Bedford Township Approved Annual Budget & Financial Statement.
4. Current newspaper articles that would be of interest to Bedford Township residents.
Next meeting: 7:00 p.m. Tuesday, June 30, 2009 at the Bedford Branch of the Monroe County Library.
Meeting notes from June 30, 2009 meeting:
1. Selected dates for next two meetings:
August 11, 2009, 7:00 pm in the Quilt Room of the Bedford Library and
September 1, 2009, 7:00 pm in the large community room at the Bedford Library
Each member is urged to recruit at least 3 new people to attend the Sept 1 meeting. The intention is to increase the cross section of community representation. The meeting will include a session to reach consensus on objectives, etc.
2. Sandy Kosmyna, Director of the MCCC Whitman Center requested that the group to communicate the importance of the Center to newspapers and other media. The group was unanimous in the belief that the MCCC Branch is a major community asset. A recent article that appeared in the Bedford Now inviting public comment on Monroe County Community College was presented. The importance of the Whitman Center as a great opportunity for Bedford residents to acquire a quality college education at an affordable rate was discussed. The Whitman Center has been a vital part of the community since 1991 and serves hundreds of residents each year. They offer college courses, continuing education, camps for children, and free programs for the community. Members were encouraged to submit letters to:
The Higher Learning Commission
30 N. LaSalle St., Suite 2400
Chicago, IL 60602
Or submit letters online: www.ncahlc.org
For further information contact Sandy Kosmyna, Director of Whitman Center at 734-847-0559 or skosmyna@monroeccc.edu or go to www.monroeccc.edu for a link to the article seeking third party comments.
3. The group felt that the 1% administrative tax (property tax increase) passed recently by the Bedford Twp. Board should have been better communicated.

4. The recycling and waste plan being discussed by the Bedford Twp. Board is not yet sufficiently developed to be communicated to citizens.

5. Discussion held on an email based communication of stuations and issues in the Twp. Info would be broadcast to all citizens who consent to receive it and provided to others by hardcopy at various community "outlets." This system would be a decided improvement over the current Twp. newsletter.

6. A brief update was given on layoffs of personnel at Twp. Hall

Meeting was concluded at 8:30pm

Tom Williams
Meeting Leader
Monroe County Community College Whitman Center Facts
The Whitman Center first offered classes in Fall of 1991. Prior to that classes were offered in South County at Temperance Rd. Elementary and Bedford HS.

The Center was designed to serve the residents of Southeast Michigan and Northwest Ohio.

They are accredited by the Higher learning Commission, therefore our credits transfer to all accredited universities and colleges. Ninety percent of the courses offered at Whitman Center are transferable courses.

A Monroe County tax funds a large percentage of the college's budget. Therefore, South County residents deserve to maintain a location that is convenient for them to attend.

More than 1,000 students attend the Whitman Center in the Fall and Winter Semester. An additional 200 or more students attend Lifelong Learning or Continuing Education Classes in the Fall and Winter. More than 300 students attend credit, non-credit, and summer camps in the Spring and Summer.
Click here to view how the tuition at MCCC compares with other schools in the area.
Contact Info:
If you have questions concerning information posted on the web site or would like to submit information for the web site (All info must be documented.):
Click here to E-Mail the Bedford Yes Webmaster
If you have other questions:
Click here to E-Mail the Bedford Advocates